Description
Jump to:
Suitable for the following vehicles
CITROEN Jumper
FIAT Ducato
FORD Transit
MERCEDES-BENZ Sprinter
MERCEDES-BENZ Vito
MERCEDES-BENZ Viano
NISSAN Interstar
NISSAN Primastar
OPEL Movano
OPEL Vivaro
PEUGEOT Boxer
RENAULT Master
RENAULT Trafic
VOLKSWAGEN Crafter
VOLKSWAGEN T5
For specific fitting instructions, please contact us on (03) 9568 8383 or see Will it fit my vehicle?
Specifications
Technical Data
Optional
Radio remote control
LED platform lights
20G tested mounting kits for vehicle models like Mercedes-Benz Sprinter, Volkswagen Crafter, Volkswagen T5/T6, Renault Master, Opel Movano, Ford Transit
Type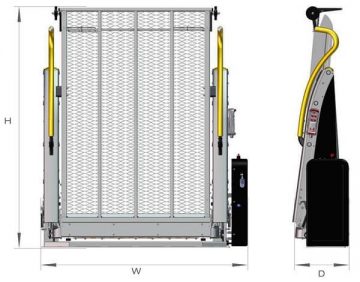 Organising your FREE quote is easy!
To speak with us directly about any of the lifting solutions we offer, call (03) 9568 8383 or follow the steps below:
Will it fit your van or bus? We have fitting instructions for popular vehicle manufactures including Volkeswagen, Mercedes, Renault and other. Send us your vehicle's make, model & year and we'll let you know right away!
Will it fit my vehicle? Click here to find out!
We email you the installation guide for your vehicle containing colour images showing the finished installation.
We will send you a video demonstrating the operation of the AL1 Linear Lift.
We talk with your nearest authorised installer to determine their installation costs. Please note installation costs are determined independently by the authorised installer (not by us) and we simply add this to your quote.
Lastly, we send you your quote including costing for:

The AL1 Linear Lift
Installation

Once you have your quote we'll leave it with you to make the decision whether to go ahead with the installation or not.
Can I organise a demonstration?
Unfortunately, not all dealers will have this item on display for you to look at.
Instead, we can send you an online video that demonstrates the operation of the AL1 Linear Lift.
Can I apply for a Government grant?
Yes you can. Usually your Occupational Therapist will apply for this for you through NDIS or the state agency.
Learn more about accessing NDIS
Your Occupation Therapist will need a quote from us in order to apply.
What if I'm not satisfied with The AL1 Linear Lift?
If you're not satisfied with The AL1 Linear Lift we'll refund your money – it's a simple as that.
We also work with the installer to have it removed immediately at no additional cost to you.
Demonstration Video
Documents
Find a Local Dealer
Distance Range Radius: KM