Description
Jump to:
The FutureSafe is a flexible, adaptable patented safety system with an integrated diagonal belt for wheelchair users.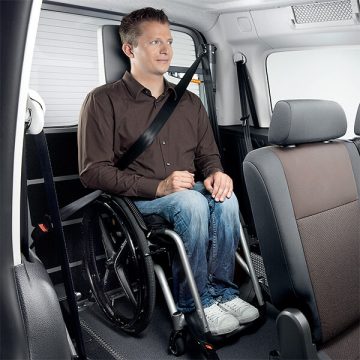 The headrest and backrest are separate so that they can be individually adjusted to suit the wheelchair user. When the vehicle is being driven without a wheelchair, the FutureSafe can be simply swivelled back against the sidewall.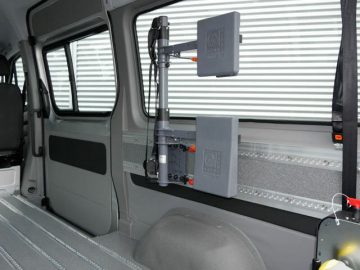 Depending on the type of vehicle, the FutureSafe is available with a floor or wall bracket. The floor bracket is designed primarily for cars with a cut out and ramp at the back. Here, the pillar in the head & backrest is anchored to the floor. The version that uses a sidewall bracket is suitable for minibuses. Several FutureSafe systems can be fixed in the desired positions by installing sidewall rails.
Can I apply for a Government grant?
Yes you can. Usually your Occupational Therapist will apply for this for you through NDIS or the state agency. Learn more about funding support.
Your Occupation Therapist will need a quote from us in order to apply.
What if I'm not satisfied with the FutureSafe?
If you're not satisfied with the FutureSafe we'll refund your money – it's a simple as that.
We also work with the installer to have it removed immediately at no additional cost to you.
Who are AMF Bruns?
AMF Bruns are based in Aspen, Germany and have been manufacturing vehicles and associated equipment including lifts, restraints, steps & ramps for people living with disability for more than 50 years.
The companies philosophy revolves around the satisfaction and trust from customers through quality and extensive safety tests.
Technical Data
Separate head and back rest; can be swivelled by 180°
Shoulder belt tested with 20G frontal crash
Tested with 10G rear crash complying with EURO-NCAP
Easy to swivel
Height-adjustable; suitable for all major wheelchair makes
Will This Fit My Vehicle?
To see if the FutureSafe fits your vehicle and to determine your total cost (including installation), please follow the steps below:
Enter your vehicle make and model.

We have authorised installers Australia-wide and can find one that's closest to you. Please note installation costs are determined independently by the authorised installer (not by us) and we simply add this to your quote.
We send you your quote including costing for:
Once you have your quote we'll leave it with you to make the decision whether to go ahead with the installation or not.
Demonstration Videos
Crash test with FutureSafe
Crash test without FutureSafe
Documents
Organise a FREE demonstration
We have dealers Australia-wide that stock this product and can show you how it works.
To help us connect you with your nearest store please provide us with your postcode.
Call (03) 9568 8383Organise a FREE Demo
Find a Local Dealer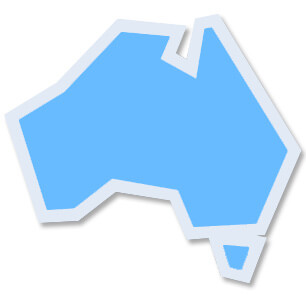 We have dealers Australia-wide that stock this product.
To help us connect you with your nearest store please provide us with your postcode.