Description
Jump to:
AMF Bruns offer 3 vehicle step types:
Electric Step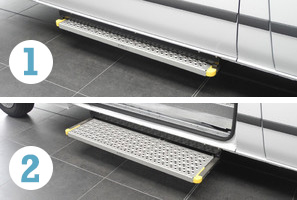 Electric steps retracted and extended
Features
Operation via the rocker switch in the B-pillar of the sliding door. This switch cannot be reached while driving which rules out operating errors
Design: Aluminium perforated plate (non-slip surface R15) in stainless steel, absolutely weatherproof
Acoustic warning signal when step is extended
Optionally it is also available as a fully automatic step! Step automatically extends when side door is opened and retracts when door is being closed
Technical Data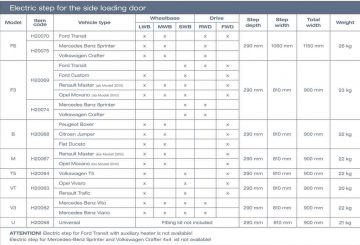 Electric Step: Overview list for sliding door
Foldable Step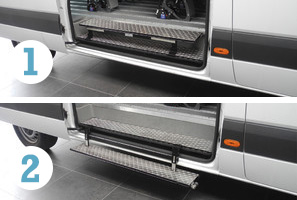 Foldable steps in folded up and down state
Features
When folded up it encloses the entire entry opening and therefore creates additional standing space for the wheelchair
Easy to install
Easy and fast to use
Comfortable entry
Non-slip ribbed surface
Totally noiseless storage while driving
Technical Data

Foldable Step: Overview list for side door
Fixed Step

Features
Easy to install
Solid steel construction, hot-dip galvanized (non-slip surface R15)
Totally weatherproof
Comfortable entry
No electrical connection necessary
Technical Data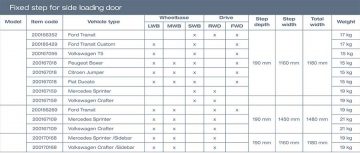 Fixed Step: Overview list for side door
Organising your FREE quote is easy!
To speak with us directly about any of the lifting solutions we offer, call (03) 9568 8383 or follow the steps below:
Will it fit your van or bus? We have fitting instructions for popular vehicle manufactures including Volkswagen, Mercedes, Renault and more.

Send us your vehicle's make, model & year and we'll let you know right away!

Will it fit my vehicle? Click here to find out!

We email you the installation guide for your vehicle containing colour images showing the finished installation.
We email you a video link demonstrating the operation of the 3 different types of steps.
We talk with your nearest authorised installer to determine their installation costs. Please note installation costs are determined independently by the authorised installer (not by us) and we simply add this to your quote.
Lastly, we send you your quote including costing for:

The type of step you would like or all 3 variations
Installation

Once you have your quote we'll leave it with you to make the decision whether to go ahead with the installation or not.
Can I organise a demonstration?
Unfortunately not all dealers will have this on display for you to look at.
Instead, we can send you a video link that demonstrates the operation of the 3 different types of steps.
Can I apply for a Government grant?
Yes you can. Usually your Occupational Therapist will apply for this for you through NDIS or the state agency.
Learn more about accessing NDIS
Your Occupation Therapist will need a quote from us in order to apply.
What if I'm not satisfied with this?
If you're not satisfied with the steps we'll refund your money – it's a simple as that.
We also work with the installer to have it removed immediately at no additional cost to you.
Demonstration Video
Documents
Find a Local Dealer
Distance Range Radius: KM