Description
Additional Features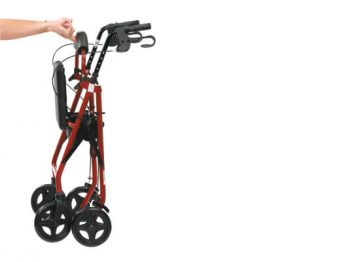 Drive's lightest all purpose rollator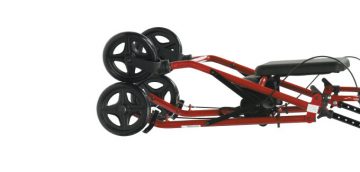 Easy folding mechanism facilitates storage and transportation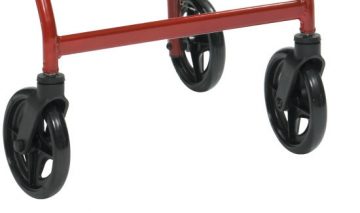 Swivelling front wheels increase manoeuvrability.
Rustproof, robust aluminium frame provides longevity and stability and is also very light to manoeuvre and transport.
Handle height adjusts quickly with hand wheels for optimal sizing.
Anatomically designed, latex-free handles allow comfortable grip especially for users with painful hands.
Arthritic-friendly looped cable brakes activate effortlessly and are lockable for additional safety.
Padded rest seat flips up easily for access to storage bag (supplied) or for folding.
Curved and padded backrest offers comfortable seated support and flips up easily for folding/storage.
Easy folding mechanism facilitates storage and transportation.
Solid, puncture proof tyres provide increased manoeuvrability over various surfaces – R6 – 15cm (6″), R8 – 18cm (7″).
Available in Vivid Blue or Spirit Red finish.
Easy wipe-clean surfaces.
R6 – Suitable for indoor use only.
R8 – Suitable for both indoor and outdoor use.