Description
The Evacusafe is an evacuation chair used to quickly and safely remove a mobility impaired individual from a threatening situation whereby obstacles such as stairs may be present.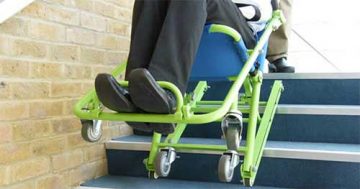 Evacusafe have brought out 2 Evacuation Chairs: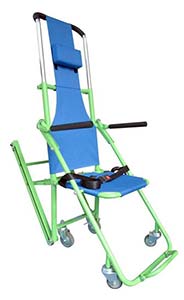 STANDARD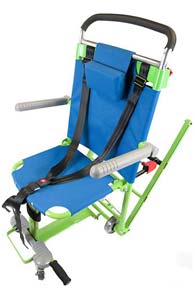 EXCEL
STANDARD
Suitable for a single person operation and can be used on a wide variety of stairs. Mainly operated on a straight continuous run, they can also be used (with some training) on a mild spiral, though this will be best suited for a 2-person operation. See the Standard Evacuation Chair.
EXCEL
An upgrade versions of the Standard model it has the additional features including: weight bearing arms, full chest support harness and leg support strap for additional comfort and safety. It also has a larger weight capacity and built-in carry handles which make it easy to manoeuvre up stairways as well as down to ground level.
Who benefits from having an evacuation chair?
People with limited mobility including the elderly
People with mental or physical conditions (asthma, diabetes, MS, Parkinsons)
Wheelchair users
Pregnant women
Individuals with long-term or temporary injuries
Evacusafe emergency chairs are designed to be operated by a single person, but having a second person is an advantage. The additional person or people may assist by opening doors, warning of obstructions and reassuring the person during the evacuation.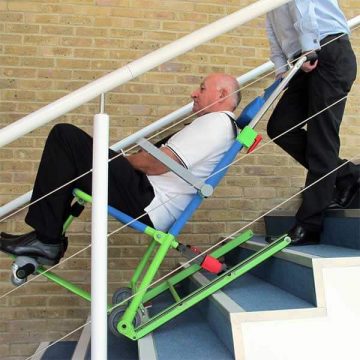 To operate the chair, follow these steps:
Remove the protective cover and place the chair on the ground in a suitable position
Undo the support strap, then open the chair to a seating position, which releases the track mechanism and ensure it is locked into place, then open out the foot rest
Place the support strap over the clients head, then bring over the arm rests
Once the client is in the chair release the brake and make your way to the emergency exit

When set up in wheelchair mode, it will travel over any flat surface smoothly and easily.

Once in position lever the chair back by placing your foot on the green track assembly bar
Manoeuvre the chair forward onto the top two steps
Make sure the track stays in full contact with the stairs by pushing the handle down towards your feet. This will ensure a smooth controlled decent
When the unit reaches the bottom stair/ landing return the chair back to four wheels
We recommend creating and acting out your emergency evacuation plan. It will help you to feel confident with the operation of the chair in the event of an emergency.
For more information call us on (03) 9568 8383 or send us an online enquiry.