Description
The Icon is born
This story of Icon begins in the mid 1990's when founders Jeff Adams and Christian Bagg first meet in what would be a life changing encounter.
Jeff, a Canadian Paralympic wheelchair racing champion is in the peak of his career. A career that would earn him 1 Gold, 3 Silver and 3 Bronze medals.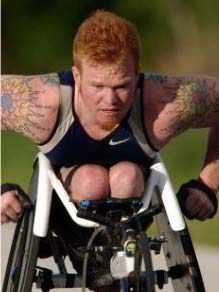 Jeff Adams in a race during the highlights of his career.
Jeff would often take the time to visit rehab centres and speak with those in strong need of advice and encouragement.
It is on one particular day that Jeff visits a rehab centre and is introduced to Christian Bagg. Christian had only recently been admitted into hospital after a serious snowboarding accident during a big-air competition that left him a T-12 paraplegic at just 20 years of age. The two begin talking and quickly hit it off.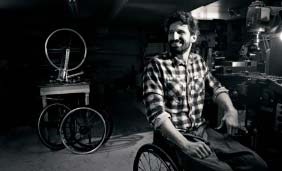 Christian Bagg in his private workshop where many prototypes have seen the first daylight.
Christian eventually returns back to his Engineering studies and after 3 years of operating a "custom fit" wheelchair, his drive and passion to build and improve would convince him to design a much better wheelchair that could be fully adjustable.
"A wheelchair that would limit the aches and pains by allowing components to be moved in and out, up or down, or even detached and swapped over for a better fit."
Christian reconnects with Jeff to seek guidance with his new project. It is at this time, the two decide to embark on a journey together, combining both their passions that would eventually see the first ICON wheelchair prototype built.

Air Suspension
"We have succeeded in making a really well-driven wheelchair with air-suspension that effectively absorbs the whole-body vibrations from everyday use that normally causes lower back pain, hip-pain and neck-pain, without compromising the driving capabilities of the wheelchair."
Christian Bagg, R&D engineer at ICON

"I have been in a wheelchair for 18 years now and have always suffered from hip-pains and muscle tonus in my legs every time I passed a small bump on the road. After just 4 months in an ICON wheelchair I no longer have pain and my muscle tonus has decreased drastically."
Keld Matthiesen, Spinal Cord Injury

Modularity
"Being modular in its design, the ICON wheelchair can be delivered to your client within the same day your client enters your shop for the first time. All settings and adjustments and be made with the client on the spot!".
Torben Matthiesen – Export Manager

"With the ICON wheelchair, I don't need to worry about getting the measures absolutely right when ordering at the manufacturer. If the wheelchair doesn't fit right off the bat, we simply adjust it when I deliver it to the client. And with the easily exchangeable modules, we can make sure that the wheelchair always performs well for the client."
Cyril Louiset, Acekare France
Documents