Description
Jump to:
Turn your manual wheelchair into an ultra light power chair in seconds!
Face almost any terrain or situation independently or with friends & family.
The Light Drive's simplicity means that journeys are much easier.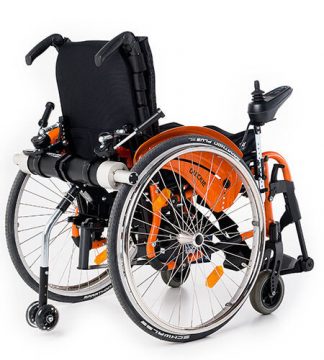 Attaching the unit to your rigid or folding manual wheelchair can be done in seconds.
Using two pre-installed plates (on the rear of the wheelchair), attach the Light Drive unit by hooking onto these then fasten by pulling the two locking handles outward.
The two plates can remain attached to the wheelchair at all times – even when the wheelchair operated without the Light Drive assistance.
To release or disengage the unit from your wheelchair, simply pull the two locking handles inward then use the lift handle located on top to remove the unit upward and away from your wheelchair.
Advantages of The Light Drive…
The Light Drive is controlled with a joystick and yet remains as manoeuvrable and as easy to use as a manual chair. By releasing the clutch you can free wheel giving you the freedom to choose when to use it.
The Light Drive gives you the independence to go where you want at your own pace – climb hills with no effort, coast across grass, sweep along gravel paths, in short, most things pedestrians can do.

Specifications
Technical Data
Light Drive Vs. Smart Drive MX2
Demonstration Video
Documents
Find a Local Dealer
Distance Range Radius: KM