Description
Important Benefits
Netti Dynamic System is an advanced mobility aid for disabled users affected by dystonia with extension movements resulting in very strong spasms and contractions which affect the user's muscle-bone apparatus causing joint dislocations and challenging the strength of the wheelchair.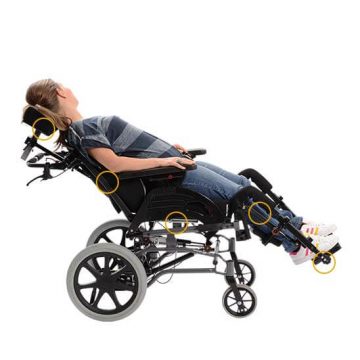 The patented Netti Dynamic System accommodates the user's extension movements letting the wheelchair work in synergy with the users movements. The wheelchair is dynamic and will follow the users movement of both upper and lower body.
With Netti Dynamic System you can achieve a more relaxed sitting position and participate in daily life with family and friends.
Why choose Netti Dynamic System?
The user will have less discomfort during spasm as the wheelchair supports the movement
After a spasm the user returns to his or her original sitting position securing a good position and pressure distribution.
Prevents unintentional change of position
Prevents the user from sliding forward in the chair and thereby getting a bad sitting position and bad distribution of pressure.
Extends the life time of the wheelchair
Target Groups
Cerebral Palsy (CP) Spastic CP
Dyskinetic CP
Atactic CP
Athetotic CP
Dystonia
Chorea Huntington
Parkinson's disease
Demential Syndromes
Skull brain tract
Spinal cord injuries
Key Features
The head support accommodates and absorbs the head extension movements by means of gas springs maintaining height and depth positions.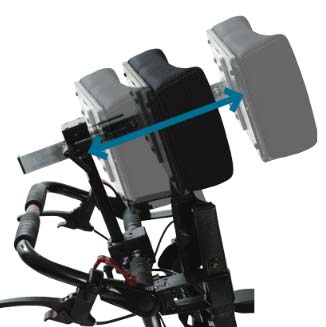 The back accommodates extreme trunk extension movements all the way to total reclination. The standard angle between seat and back can be set to between 85° and 110° depending on the chosen solution. You may choose between 3 different solutions: gas spring or locked gas spring with different recistance opportunities and air shock absorber.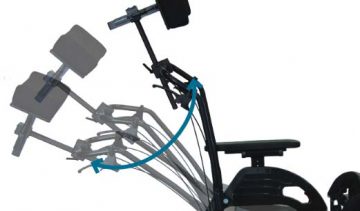 The seating unit accommodates the hip elevation during the user's extension pattern. This prevents sliding forward in the seat after the movement and a bad pressure distribution caused by the unintented sitting position. The Netti Dynamic System is delivered with a guiderail attachment for hip belts which helps to keep the good sitting position.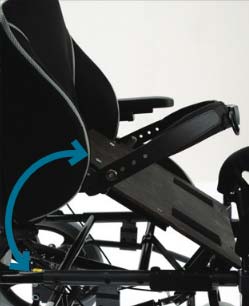 The foot support accommodates the elevating movements (at the knee joint level), the pushing movements along the tibial axle and the flexion-extension movements of the foot.