Description
Jump to:
With NuDrive Air you have 50% extra power and you keep your muscles active.
As an extra benefit you have in-build brakes, and you even keep your hands dry and clean holding on to the levers instead of the wheelchair rims.
Clinical evidence clearly indicates that with the NuDrive Air you can prevent yourself from having wrist – or shoulder injuries derived from many years of normal propulsion in your wheelchair – it is also well-suited for therapy of such injuries.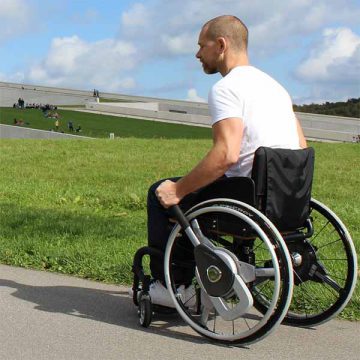 Using NuDrive Air your body postural alignment will even improve, providing increased lung ventilation and longer endurance.
NuDrive consists of two Drive Units and two Wheel Adaptors (one pair for each wheel).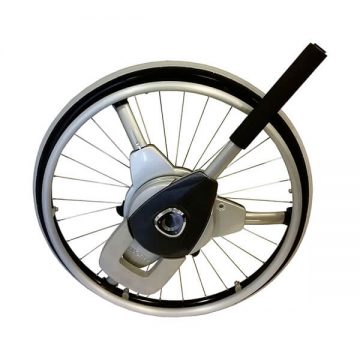 The 'Snap-Lock' technology allows you to fit the wheel adapter to your manual wheelchair wheel in seconds.
Once in place, the lightweight design adds no width and can be left unobtrusively positioned on the wheel also allowing unhindered removal of the wheels for transport.
When you want to use NuDrive, the Drive Units can simply be clicked into place and then removed when finished.

How does it work?
To propel the chair forward first put the NuDrive Air into 'drive mode'. This is done with an effortless outward flick of the levels (away from the body).
Once you're in 'drive mode' you can propel forward by pushing the levers forward. To continue movement, bring the levers back and push both levers forward again.
To brake pull the levers inwards towards your body.
Steering can be done by braking with one lever and propelling with the other. To turn to your right, brake with your right lever and propel with your left. To turn to your left, simply do the opposite.
Reversing is done by returning to 'neutral mode' with another outward flick of the levers, and then using the product brakes, grip and move the wheels in the desired direction.
What if I can't afford this?
You may be eligible to apply for Government funding through the National Disability Insurance Scheme (NDIS) which can reduce the cost for you.
Usually your Occupational Therapist will apply for this on your behalf through NDIS or the state agency. Learn more about accessing NDIS.
Your Occupation Therapist will need a quote from us in order to apply for funding assistance.
MobilityCare is an approved NDIS provider.
Demonstration Videos
Organise a FREE demonstration
This product is available for demonstration from our MoblityCare warehouse in Oakleigh – unfortunately we cannot offer home demonstrations for this.
To organise a demonstration time with us, call (03) 9568 8383 or email us and we'll get back to you shortly.
Testimonials
With NuDrive Air it is easy to stay active with my friends and family. I have more power to overcome inclines and distances on my own, and that is important to me. NuDrive Air has given me more freedom.
Jacob Dahl, Paraplegic