When choosing a portable ramp, it's always good to speak with your Occupational Therapist first. They can assist you in making an informed decision.
Your local council may also be able to provide you with helpful information regarding calculating an appropriate ramp length for the obstacles you're facing.
We recommend the length and height ratio of your portable ramp have a safe operation incline of no more than 10 degrees.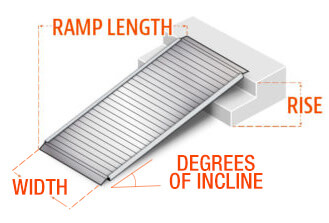 The ramp calculator is a useful tool when determine the best size ramp.
Enter in any two out of the fields the click 'Calculate'.