Description
The Bellavita bath lift has been developed to be the number one bath lift in the UK marketplace, and at a very affordable price here in Australia. It has several features that will help make your bathing simple, enjoyable and hassle free.
It's been ergonomically designed to provide greater comfort and safety for the user. The modern appearance and design will make it look at home in all bathroom environments.
The seat comes with machine washable covers as standard and are available in white, blue or grey.
This bath lift reaches a record seat height of 48cm so if you have a deeper bath there is no need for special height adapters. The Bellavita lowers to only 6cm and reclines to a market leading 50 degrees. This ensures you can enjoy a great soak – A true bathing experience!
The colour coded handset is very lightweight, user-friendly and features a quick charge time. If you drop it in the bath, don't worry it floats and is fully waterproof.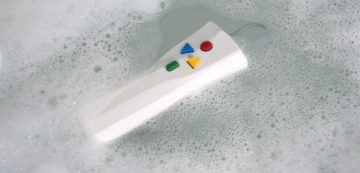 Installing the Bellavita in your bath could not be easier. It's two lightweight sections can be assembled in seconds. It does not require any plumbing or electrical installation. Simply plug in the handset and you're ready to go.
It was developed with the user in mind, hence it is very east to operate.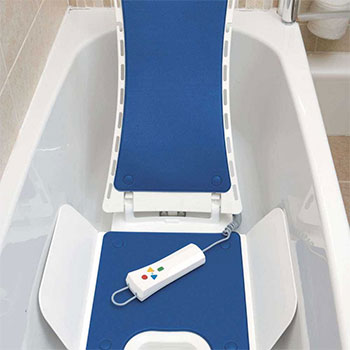 It is just as easy to dismantle and its slim line profile is great for storage and transportation. The Bellavita is the lightest on the market making it easy to transport and a popular choice for those who like to go away on trips or holidays.
The model includes a built-in safety mechanism – it will not lower the bath lift unless there is sufficient charge to raise it up. For you piece of mind, the Bellavita comes with a lifetime guarantee on the frame and motor.
Additional Features
Available in blue, white or grey
At 2.3″ the Bellavita is the lowest bath lift available
Completely tool free set up makes it easy to install and operate
Excellent for deeper model tubs
Hygienic cutaway and slim line profile for easy handling
The backrest reclines to a market leading 50 degrees at its lowest position
The easy to use quick charge lithium-ion battery is accommodated in the Hand Control
Two piece construction makes the lift easy to assemble/disassemble for transport
Washable hygienic covers available in white, blue or grey
When not in use, back easily folds down for space-saving storage
Suction cups adhere to smooth surfaces only, and not textured surfaces