Description
Who is the MANGAR Eagle Lifting Cushion for?
The MANGAR Eagle Lifting Cushion is an inflatable cushion that helps lift a fallen person weighing up to 220kg, up off the floor and into a sitting position.
It is also suitable for lighter people who would prefer back support during their lift.
The physical risks associated with manual handling on the carer are reduced as all the lifting is done using the inflatable Camel cushion and Airflo 24 air compressor.
Who uses the MANGAR Eagle Lifting Cushion?
Ambulance Services Nationally & Internationally

Elderly Care – Every year 30% of Australians' over the age of 65 will fall
Aged Care facilities
Hospitals & Communities
Individuals with physical disabilities such as limited mobility or amputees
EMI Care
Rehabilitation facilities
Plus size or Bariatric Care
Care Homes
Home use
People with neurological disorders including:
Stroke
Alzheimer's
Dementia Care
Huntington's disease
Multiple Sclerosis
Epilepsy
Parkinson's
The Eagle is ideal for a home setting because it can be used in confined spaces to lift people who have fallen (e.g. bathrooms, hallways and dining rooms).
Its ease of use means it is suitable for those not professionally medically trained in the role of carer such as a family member supporting a loved one with a health condition that affects their likelihood of falling.
How to lift a heavy person who has fallen?
With an inbuilt backrest and internal ring construction, the Eagle offers a fully supportive lift that can be carried out entirely independently by the fallen person.
Compared to the Mangar Elk, the Mangar Eagle provides extra back support making it suitable for larger people or elderly people with limited back strength.
See the Mangar Elk and Mangar Camel Comparison.
Using the simple hand control and compressor provided, the Eagle is inflated section by section to bring the individual up into a position from which to stand.
The Eagle is inflated at the touch of a button. There are 4 buttons on the hand control which are pressed in order to inflate each section of the cushion. Each button inflates the cushion a little higher.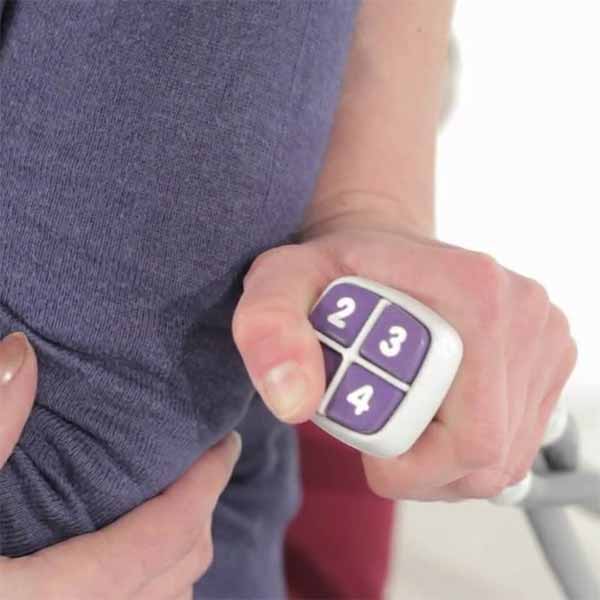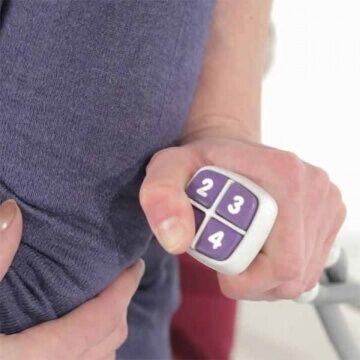 Most times only 3 buttons are required to inflate the cushion to a suitable height. The 4th button may be required for taller persons or persons with very limited mobility.
Once the cushion has inflated to a suitable height and someone is supporting the individual from behind, the person is ready to stand from their seated position.
Once the lift is complete, the Eagle can be deflated, folded up and stored away tidily.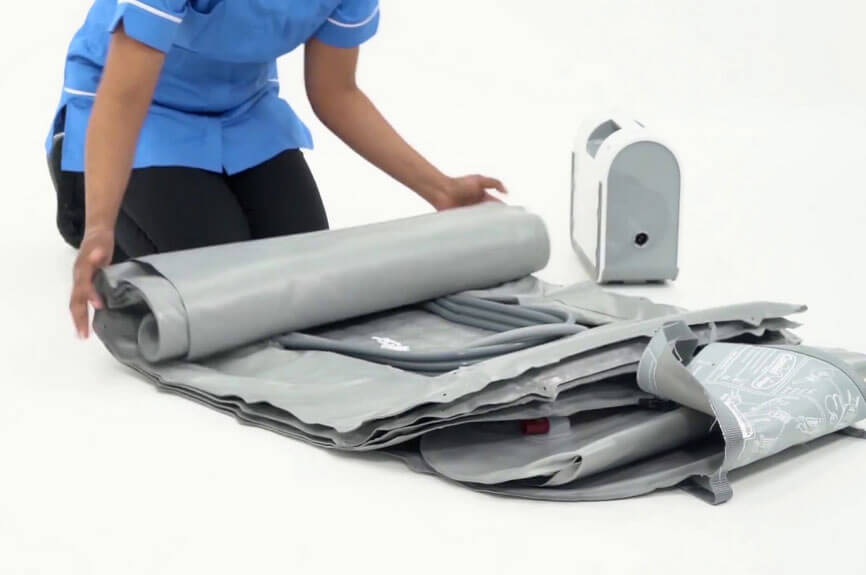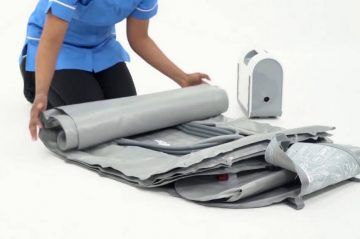 Am I Eligible For Funding?
You may be eligible to receive funding support.
Your Occupational Therapist normally applies for this on your behalf through the NDIS or state agency.
To see if you're eligible for funding support through the NDIS, visit the NDIS checklist.
Your Occupational Therapist will also need a quote from us during the application lodging process.
Specifications
Demonstration Videos
Documents
Testimonials
I have secondary progressive Multiple Sclerosis and quite often fall out of my wheelchair due to my chemotherapy treatment. I now use a very simple device called the 'Camel' to get me up from the floor to my wheelchair very easily. The 'Camel' (Complete Air Moving Elevating Lift) uses low air pressure to inflate it first to sit me up and then to raise me to a height where I can transfer. In my situation 2 people are needed to assist me, but the 'Camel' is very simple and easy to use and requires minimal instruction to operate it. The 'Camel' chair lift is a fantastic piece of equipment.
Darragh Moore, Ireland
Organise a FREE demonstration
We have dealers Australia-wide that stock this product and can show you how it works.
To help us connect you with your nearest store please provide us with your postcode.
Call (03) 9568 8383Fill out the online form
Find a Local Dealer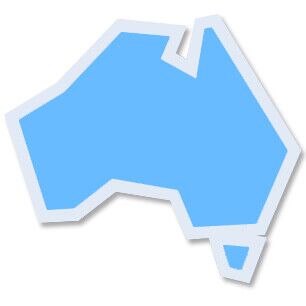 We have dealers Australia-wide that stock this product.
To help us connect you with your nearest store please provide us with your postcode.