Description
Ashley Lift & Recliner Chairs come in 1 or 2 motor styles!
The 2 motor chair allows independent operation of the footrest and the backrest enabling a full reclining position. We recommend the 1 motor option for a partial recline and a full extension of the footrest.
The lift feature is available in both 1 or 2 motor styles. The benefit of the lift is to allow you to easily stand up out of the chair.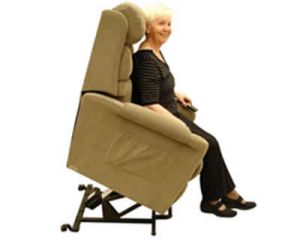 Choosing the right chair for you
The five sizes available are Petite, Medium, Mini, Maxi, Tall and each is designed to fit a particular body size and shape. To give you a rough idea, the Petite model is recommended for people 153cm and under while the Tall model is suitable for 188cm-198cm tall. All Ashley recliner chairs have a maximum weight capacity of 120kg but we also recommend the Bowen recliner series for bariatric people.


We have a selection of high-quality Warwick fabrics in a range of colours. You can read about Warwicks fabric guarantee to find out more.
Feel free to talk with us and let us know what you're after. Ashley is a popular range and we can help you find the chair you're looking for! It's worth noting that due to our warehouse stock management levels, we will require an additional 2-weeks to order in Maxi and Tall chairs for you.
All Ashley chairs come with a 3 section waterfall backrest providing extra comfort and support for your body. The wall saver action allows them to sit 10 cm from the wall. This prevents the chair from taking up too much space in your room. If you need to move the chair, it's not a problem with the use of standard fitted castors.
Built to last!
The frame is built from Australian hardwood Tasmanian Oak giving you strength where other inferior timbers fall short. Decked out with Dunlop foam and no-sag spring technology this chair is built to last, while giving you maximum comfort. The frame is backed with a 5-year warranty and 2-years guarantee on the mechanism, hand control and transformer.
To find out more call us on (03) 9568 8383, or leave an enquiry using the form provided and we'll get back to you straight away with an answer!