Description
The PVI single fold mobility ramps unfold to a 76cm wide loading platform with edge barriers.
They're ideal for wheelchairs and 3 & 4 wheel scooters.
Non-slip surfaces allow these ramps to be used in wet weather conditions as well as dry.
Their aluminium construction makes them as light as possible for their size with a 360kg load capacity for lengths under 3m.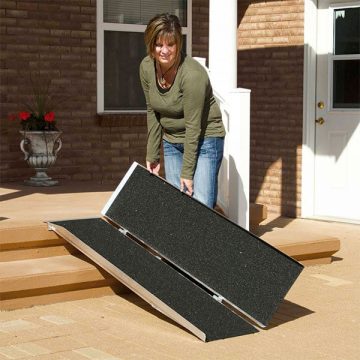 Choosing your ramp size
When choosing a portable ramp, it's always good to speak with your Occupational Therapist first. They can assist you in making a decision.
Your local council may also be able to provide you with helpful information regarding calculating an appropriate ramp length for the obstacles you're facing.
We recommend the length of your portable ramp to be a minimum of 6 times the rise. This ratio presents an incline of roughly 10 degrees.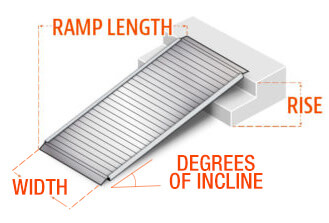 How to calculate:
Measure the RISE of your step or surface
The minimum RAMP LENGTH = 6 x RISE
For example, let's say you have 2 steps that have a total rise of 20cm.
The minimal length we would recommend for your portable ramp would be 120cm.
Specifications
** Handle not included on SFW230.
* Maximum ramp capacity: 180kg (one axle) – 360kg (two axles).
Demonstration Videos
Documents
Testimonials
After being in the DME and Rehab Technology industry for over 10 years, I have found that PVI has been a very essential part to providing independence and mobility for our consumers. Other companies have been put to the test but none compared or equaled to PVI. From the very involved modular ramps to the simplest threshold ramps PVI has fit the bill. The ongoing relationship between their tech support and us has been nothing short of excellent. They are a great company to work with and we will continue to use PVI in all future ramp needs and recommend them to anyone with ramp needs.
Keith Davenport, Superior Mobility
Ramp Works perfectly – Great design and workmanship. I was going to make a ramp of 3/4″ plywood for my wife who is wheelchair bound. She saw your ramps in a catalog, and urged me to buy one. It works perfectly, My wife, my back, and I, thank you.
R Clemons, Texas