Description
The PVI Threshold ramp is designed for doorways that have a step.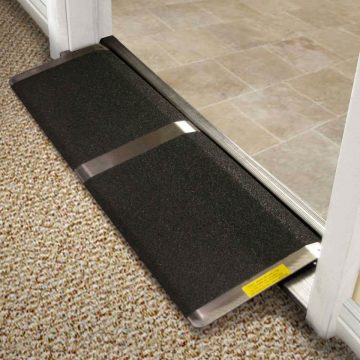 Non-slip surfaces allow these ramps to be used in wet and dry weather conditions.
Even though this ramp is designed to be fixed into position, it's aluminium construct makes it lightweight to lift if necessary.
Hardware is provided with the threshold ramp, allowing it to be fixed into place within your doorway.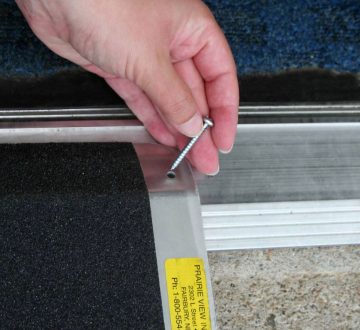 Specifications
** Maximum ramp capacity: 140kg (one axle) – 270kg (two axles).
Demonstration Videos
Documents
Testimonials
After being in the DME and Rehab Technology industry for over 10 years, I have found that PVI has been a very essential part to providing independence and mobility for our consumers. Other companies have been put to the test but none compared or equaled to PVI. From the very involved modular ramps to the simplest threshold ramps PVI has fit the bill. The ongoing relationship between their tech support and us has been nothing short of excellent. They are a great company to work with and we will continue to use PVI in all future ramp needs and recommend them to anyone with ramp needs.
Keith Davenport, Superior Mobility
Ramp Works perfectly – Great design and workmanship. I was going to make a ramp of 3/4″ plywood for my wife who is wheelchair bound. She saw your ramps in a catalog, and urged me to buy one. It works perfectly, My wife, my back, and I, thank you.
R Clemons, Texas
Organise a FREE demonstration
This product is available for demonstration at our MoblityCare warehouse in Oakleigh only.
To organise a demonstration, please contact us: