Description
Add power to your wheelchair!
It's surprisingly compact and powerful enough to help you cruise up the steepest ramps, sidewalks or even over thick padded carpet.
The SmartDrive MX2+ is designed to preserve your upper body while minimising shoulder pain.
With the anti-rollback feature, it can instantly and safely stop your wheelchair when traveling up a ramp. When you're ready to go, the SmartDrive power assistance kicks in to begin moving again.
The unit weighs only 5.6kg and is so lightweight you won't even know it's there. You can spin on the spot, pop a wheelie or even hop off a curb.
It's easy to install – clipping onto the hitch at the back of the chair in a matter of seconds. The SmartDrive fits almost any wheelchair including folding wheelchairs.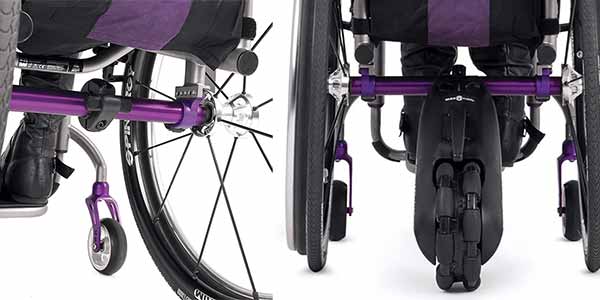 This device is ideal for anyone wanting to minimise their risk of shoulder injury or further shoulder injury or simply for those who'd like a little extra power added to their chair.
Now with PushTracker E2
Developed with connectivity and durability in mind, the PushTracker E2 has been rigorously tested and proven to be consistently reliable and extremely durable.
The PushTracker E2 makes using your SmartDrive easier than ever. With tap gesture-activated controls and activity-tracking technology you can start your SmartDrive with a simple tap of your hand—no pushing or reaching necessary.
PushTracker App
SmartDrive advances daily mobility for the manual wheelchair user. The PushTracker app produces and delivers activity statistics designed to promote optimal health for the manual wheelchair user. Track distance, pushes and coast time to help you decrease the demand on your upper body.
What can I customise?
Using the new PushTracker E2 wristband the SmartDrive MX2 can have its tap sensitivity, top speed, acceleration and drive modes adjusted. Being able to change these attributes allows for a customised operation that is suited to the operator.
Can the top speed of SmartDrive be reduced?
Yes it can! The SmartDrive's top speed can be set to anything below it's maximum speed of 10km/hr. Once you become more confident with the handling, this speed can be increased.
Can I fly with my SmartDrive?
Yes you can! Please take a look at the Certificate Regarding Air Transportation by Passengers with Walking Disabilities or email us requesting forms required to present when flying.
What if I can't afford this?
You may be eligible to apply for Government funding through the National Disability Insurance Scheme (NDIS) which can reduce the cost for you.
Usually your Occupational Therapist will apply for this on your behalf through NDIS or the state agency. Learn more about accessing NDIS.
Your Occupation Therapist will need a quote from us in order to apply for funding assistance.
MobilityCare is an approved NDIS provider.
Light Drive Vs. Smart Drive MX2
| | | |
| --- | --- | --- |
| | LIGHT DRIVE | SMART DRIVE MX2+ |
| Manufacturer | Benoit, France since 1994 | Max Mobility, USA since 2010 |
| User Profile | Strength or pain impaired | Active |
| Wheelchair Modification Needed? | No | No |
| Most Often Used On | Folding wheelchair | Rigid Wheelchair |
| Control | Joystick (Programmable) | Push tracker and Bluetooth Bracelet |
| Drive | Both wheels | Mid point on wheelchair |
| Starting | Joystick | Tap |
| Direction Control | Joystick, all directions | Manual, no reverse |
| Freewheel Mode | Yes | Yes |
| Stopping | Motor is powerful brake | Tap and manually brake |
| Top speed | 10 km/hr | 10 km/hr |
| Climbing | 20 degree gradient | 6 degrees at least |
| Range | 14-16 km | to 19km on constant flat |
| Terrain | All terrain | Most terrains excluding some rough. |
| Max Occupant Weight | 120kg - terrain dependant | 150kg - terrain dependent |
| Colour | 8 Attractive colours | One colour, dark grey. |
| Heaviest Part | 8.8 KG | 5.7 kg |
| Batteries | Lithium | Lithium |
| Air Travel | Yes | Yes |
| Putting On And Taking Off | 20 seconds | 10 seconds |
| Technology | Robust, Stable | Constantly developing in recent past. |
| Special Minor Requirements | Schwable marathon tyres | Folding chair adaptor |
Organise a FREE demonstration
This product is available for demonstration at our MoblityCare warehouse in Clayton..
Unfortunately we cannot offer home demonstrations for this.
We offer complimentary training to those who purchase the SmartDrive MX2 from us.
To organise a demonstration time with us, call (03) 9568 8383 or email us and we'll get back to you shortly.
If you happen to find a lower price on this item, we'll match it! Enquire today to start feeling the benefits of SmartDrive!