Deciding whether a particular product is right for you is difficult without seeing it up close.
Not only does this give you the chance to ask questions face-to-face with the person demonstrating the product for you, it also provides the opportunity of using the product to see if it meets your needs.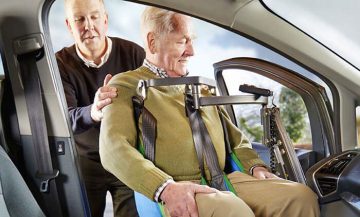 What products do you demonstrate?
At MobilityCare, we provide free no-obligation product demonstrations on our entire range of products including:
Rollators & walkers
Mobility scooters
Power assisting attachments for manual wheelchairs
Person transfer from wheelchair to vehicle
Vehicle modifications for wheelchair & scooter access
Pressure cushions
Support poles
Recliner & Lift chairs
Our demos extend out to mobility aids we import from World leading manufacturers known for their quality and safety:
How do I organise a demonstration?
Demonstrations are organised by calling us on (03) 9568 8383 or by leaving an enquiry form with mention to the product(s) you'd like to have demonstrated.
Where is your warehouse located?
Our warehouse is located at 39 Cambro Road, Clayton VIC 3168.
I do not live near MobilityCare, how do I organise a demonstration?
We have dealers Australia-wide who can help you.
We recommend getting in-touch with us first so we can assist in arranging your demonstration with a dealer that's local to you.
Our dealers stock products from the following world leading manufactures:
That being said, we need to check with your local dealer to see if the product is available to demonstrate.
A product may not be available for demonstration when floor space is limited.
In this case we can send you a video demo from the manufacturer.
How long does a demonstration take?
Demonstrations typically take around 30 minutes but may be longer or shorter depending on the type of product and the number of products you're looking at.
Should my Healthcare Professional attend the demo?
We recommend your Healthcare Professional is there either with you or on your behalf.
Their knowledge and experience will help determine whether a particular product is suitable to your needs.
Healthcare Professionals are also vital in applying for Government funding eligibility through NDIS, DVA or SWEP.
Are demonstrations FREE?
Yes. All demonstrations are provided free with no-obligation of buying.
I've seen the demo, now I'm interested in buying.
You can either contact your dealer directly and they'll be able to help you, or call us and we can arrange this for you.