Description
Jump to:
The U-Step 2 gives you stability by surrounding and moving with you
It is not like pushing a typical walker. You will feel as stable as you would feel holding onto another person's arm.
The patented U-shape base is designed so that it surrounds you, keeping your center of gravity low to prevent you from falling.
The base has been solidly welded so that there is not movement, helping you feel secure while moving.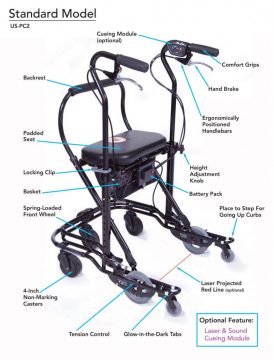 Control
The turn wheels are located in the middle of the base, instead of at the rear as seen with many other rollators.
This creates a smaller turning circle of 74cm, compared to 127cm with other rollators.
A smaller turning circle means you're able to manoeuvre much easier in tight spaces such as narrow doorways, bedrooms & kitchens.
Braking System
The innovative braking system is easy to use and puts you in complete control.
The U-Step 2 will not roll unless you are ready to walk. When you lightly squeeze either brake release lever, the unit will roll with you.
Once you release the lever, the unit will stop immediately.
This feature is particularly helpful when standing up from a chair because the unit will not roll away from you.
Easily Transported
The U-Step Walker 2 folds up in two simple steps and can be stowed in the back seat of your car.
1. Lift the release lever located by the seat
2. Pull up on the seat to fold
There is no bending down necessary.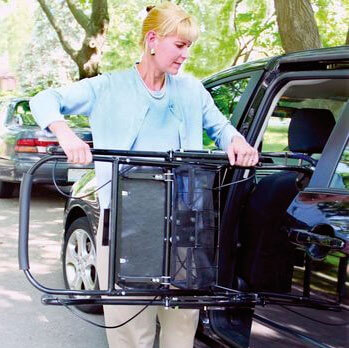 Specifications
Demonstration Videos
Documents
Price List
Testimonials
Effective aid for mobility and balance for Parkinson patients, and has often been preferred over other rolling walkers.
Peter LeWitt, MD; Professor of Neurology, Wayne State University; Neurologist, Clinical Neuroscience Center, Bloomfield, MI
More stable and safer than standard walker models. The U-Step is ideal for patients with multiple sclerosis, Parkinson's disease, cerebral ataxia, muscular dystrophy, ALS, stroke and head trauma.
Pat Casey, MS, OTR/R; Department of Neurology, Northwestern Medical Faculty Foundation, Chicago, IL
The U-Step is superb and should be introduced to all places specializing in helpful walking equipment.
N. Emanuel
The U-Step is a remarkably well made walker. It, while lightweight, is sturdy. One can use it and feel secure from falling. It has many other pluses. I especially like the felling of an upright rather than the stooped position one almost inevitably develops.
E. Holman
The U-Step is much more stable than any other walker I've used.
A. Codella
Find a Local Dealer
For more information about the U-Step Walker, get in touch with your nearby dealer.

Distance Range Radius: KM