The TOPRO Advantage
This guide aims to provide useful information relating to world leaders in rollators TOPRO, while offering comparisons on where other models fall short.
Buying a rollator is an exciting time for many. Choosing one that suits your needs is about knowing first what's available to you.
Think about what you need out of a rollator. This includes where you're likely to use it and what features you'd expect it to have in order to fit in with your lifestyle. If you're unsure, talk with your Physiotherapist or us for advice.
Avoid Rollators That Make You Stoop
Walking correctly is a vital investment in your independence and well being.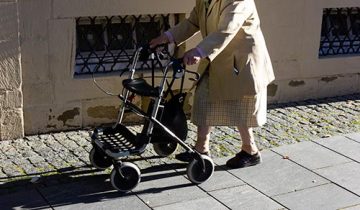 Bad posture is a serious problem seen as a result from many badly designed A-frame rollators. They force you to lean forward while standing back. Overtime this can lead to muscle fatigue which can be dangerous to your health.
TOPRO is a manufacturer of rollators from Norway and have completely revolutionised the way the world looks at good design and it's health benefits.
Their unique design offers a solution to fix bad posture by allowing you to walk inside of the frame, instead of behind it.
Walking inside encourages you to stand up straight, giving good skeletal support while reducing tiredness, muscle strain and trips or falls as a result of being unbalanced.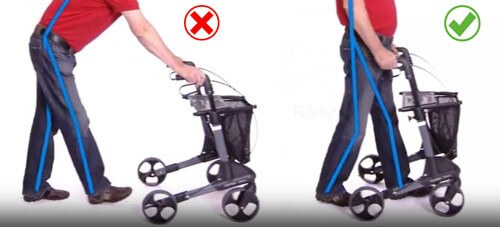 The height of your handles can also reduce aches and pains associated with bad posture.
Make sure your rollator has handles that can be adjusted up or down. Your physiotherapist or we can assist in setting this up for you. This setting is vital so please ask us to help.
Rollators for Neurological Conditions
People who have Parkinson's or other Neurological conditions may opt for a rollator that has been specifically designed with stabilising features in mind.
Most rollators are equipped with braking system's that requires hand compression in order to engage the wheel's lock mechanism.
TOPRO's Neuro model and INSTEP's U-Step are specialised rollators equipped with SBS (Safety Braking System) that is set up much differently. To keep the rollator moving, the brake levers are required to be slightly compressed.
With the use of the SBS, the rollator quickly becomes a stable support to hold onto not only in the event of a trip or fall but also as an aid to stand up from a sitting position.
Another feature available to both models is the laser light cue model attachment. People who experience FOG (freezing of gait) episodes may benefit from having a brightly lit line projected onto the ground in front of them while they walk.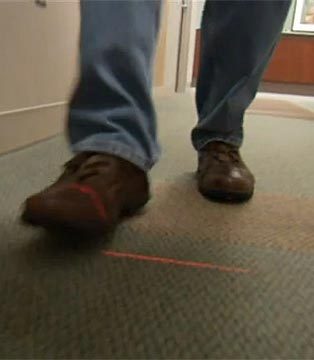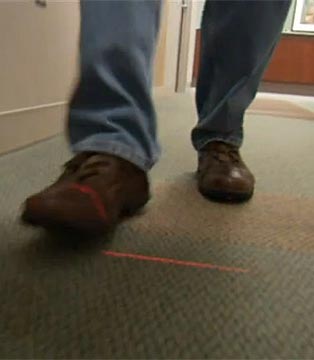 Laser cue module helps to reduce FOG
The line can be turned off or on at the press of a button. The line acts as a visual cue to step over, helping to reduce FOG.
Braking Accessories
Single hand operated braking systems come as accessories on some models. They are easily installed onto an existing rollator. This type of braking system is a popular choice for those who are recovering from a stroke or have poor grip in one hand due to limited mobility.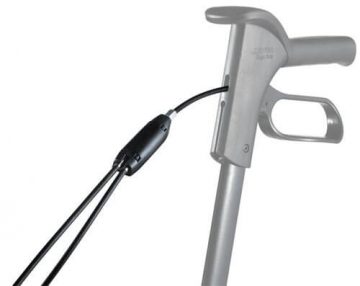 Single lever operates both brake lines
Support for Weak Legs
Those who have limited strength in their legs may choose a slightly different design.
TOPRO have brought out two walkers: Troja Walker and Taurus forearm gutter walker that allow your upper body to comfortably support you while walking. The Troja can be manually adjusted in height whereas the Taurus has the choice of either hydraulic or electric height adjustment.
Terrains
Knowing the type of terrain you're likely to experience goes a long way in helping you find a right fit.
For those who love to experience the great outdoors on a regular basis may do so with the TOPRO Olympos. It has been built primarily for use outdoors, but can also be used indoors.
You may be looking for a rollator that is suitable for indoors and can tackle general outdoor surroundings. TOPRO make it easy, giving you a choice of wheels with varying treads that attach onto the Troja.
Whether your facing smooth flooring & footpaths or rougher surfaces such as cobble stones, gravel & general outdoors there's a tread that has you covered.
Their Quick Release buttons allow the tyres to slide off and another set of tyres to clip back on in a matter of seconds.
Compact Folding
No matter the terrain, being able to fold your rollator for storage or transport is a good option to have.
Many other models are quite heavy and do not fold in a compact way. As a consequence, they take up more room and can make it difficult fitting passengers or shopping into the car.
TOPRO have included a handle that when pulled upwards, folds the rollator like hands clapping. Coupled with its lightweight design this makes it very easy to lift and store into any vehicle.
Storage
Useful for those in need a little extra space to carry items. The storage bag accessory can be used to help carry groceries back from the shops or tools whilst gardening outside.
Warranty
Check the warranty before you buy any warranty. Any defects you come across during short term usage may be covered under the manufacturer's warranty. You can expect to see up to 12 months with most e.g. U-step.
TOPRO has backed their quality and durability with a 7-year warranty on all of their frames and handles.
To see just how durability they are, take a look at TOPRO's 90 day weather test on the Troja rollator.
Accessories
TOPRO's rollators come with a large selection of accessories to fit in with your lifestyle. These accessories are easy attach and remove at any time.
Conclusion
Like choosing any piece of mobility equipment, having a clear idea of your needs will go a long way in finding the right fit.
Always consult your physiotherapist for their professional opinion as quite often they will have dealt with similar cases to yours.
Like any product on the market, you get what you pay for. There is usually a reason why cheap rollators are so cheap. Be careful when making this decision as injuries may occur from using bad designs.
Rollators designed with your safety in mind are likely to cost more. Investing in a good quality rollator now will not only give you the security and functionality you expect, it can also reduce unnecessary medical expenses from injuries due to falling or long-term bad posture.
To talk with us, call (03) 9568 8383 or send us an enquiry.